By~ Romesa Qaiser Khan, ex-first year.
(Will-be grammar nazis, I do know how to spell freshies but one beloved sir christened us froshies and now we pass the honour to you.)    
 So. The new sacrificial lambs are here at last. You have studied and worked hard and given up all of life's joys to win the rat race that is MCAT. Congratulations! (You could've done better though, our-merit-art-higher-than-thous, juzsayin') They tell you this is the big IT. THE milestone you've been waiting to reach. Life will be a piece of cake from now on. In fact, I overheard one of you saying "MCAT ke waqt jo feeling thi man. Ab to life asaan hogi."
 
which made me mentally go...


















Not that I intend to be a killjoy. But we were where you are not so long ago and we feel like someone should've forewarned us so we're doing the same for you. Here's a leeetle view of what's going to happen (which they never show you in all those college movies):
1. The enthusiasm.
    At the start of the year in every lecture like....
but in a few months....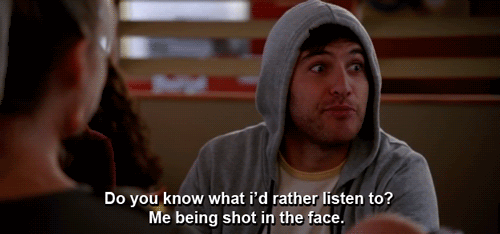 and you'll discover amazing new survival skills too.
and YES, YOU CAN.
2. The swag feels.
You'll wear your overall like Batman's cape. You tell every auntie/uncle/child/pet that crosses your path that you're a doctor, woh bhi KEMCOLIAN doctor. The cream of the cream of the cream.
3. Them brainy feels.
When you sit in with all 300 of your fellow students based on your previous board-topping history you'll feel something like this:
but then you meet THE NERDS. The ones who never sleep. The ones who have annihilated the books. The Originals. They'll know things you can't imagine. They'll put up nerd posts and explanations for chapters and past papers on facebook groups. They'll ace tests. They'll wow professors. And they'll make you go: